This is an archived article and the information in the article may be outdated. Please look at the time stamp on the story to see when it was last updated.
A Los Angeles Fire Department swift-water rescue team was forced into action after several people and a dog became stranded in the rain-swollen L.A. River on Sunday morning, authorities said.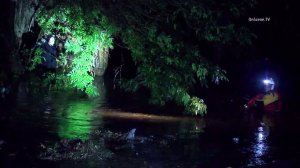 Up to seven people were rescued from the initial location, given as 6100 North Balboa Boulevard in the Sepulveda Basin, fire officials said. Four were rescued by an LAFD swift-water rescue team, while three were able to "self-rescue."
Ground and air crews initially responded to a report of three people stranded in the river shortly before 5:20 a.m., according to LAFD spokesman Brian Humphrey. When crews arrived, they found two people, a male and a female, in peril.
Two additional people, including one with a large dog, were later found stranded downstream.
"We had individuals that were holding onto trees, and basically holding on for life," Cody Weireter, of the Fire Department, said at the scene. "Our swift-water rescue teams were able to get on scene and were able to affect the rescue for three patients that were holding onto trees. One actually had a large dog with him at the time."
By 6:40 a.m., up to seven people had been rescued from the river, which quickly rose as heavy rain drenched the area overnight.
"We also had a land-based rescue also, where several people were taken out of the river via the land," Weireter said.
With more rain expected to soak the region on Sunday, crews were working to clear a homeless encampment that spanned multiple sites among the river in the Sepulveda Basin, LAFD spokeswoman Margaret Stewart said.