This is an archived article and the information in the article may be outdated. Please look at the time stamp on the story to see when it was last updated.
More than a dozen people were hurt after a travel van collided with another vehicle in Lancaster on Saturday afternoon, officials said.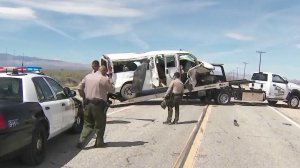 Two of 14 patients were airlifted in critical condition from the scene near North 60th Street West and West Avenue F, Los Angeles County Fire Department's Art Marrujo told KTLA. Passengers in the travel van chartered it in Culver City for a trip to Lancaster to view the poppy fields, according to a preliminary investigation, Detective Gilbert Borruel with the L.A. County Sheriff's Department said. The van was traveling westbound along Avenue F when it slammed into a Mini Cooper going north on 60th Street, Borruel said. The van rolled over once and possibly another time before hitting a light pole and coming to a stop, the detective added. In addition to the victims airlifted, ten people were taken to the hospital by ground and two others refused to be transported for treatment, Marrujo said. Two people had to be extricated from the wreckage. "It's a miracle. Seatbelts do save lives," Los Angeles County Sheriff's Detective Gilberto Borruel said. "My understanding is most people in the van had their seatbelts on (and) … they just kind of rolled over and stayed in place." One of the wounded victims was taken to Henry Mayo Newhall Hospital while another was taken to a Northridge hospital and the rest were transported to Palmdale Regional Medical Center, officials said. The female driver of the van said she was not familiar with the area and officials said it does not appear alcohol or drugs played a role in the crash. However, authorities have said it is possible the vehicle may have run a stop sign. All of the victims are adults. Authorities previously described the van as a bus. No other details have been released.
KTLA's Alexandria Hernandez contributed to this report.