This is an archived article and the information in the article may be outdated. Please look at the time stamp on the story to see when it was last updated.
An investigation was underway in San Bernardino Wednesday after multiple shooters opened fire outside a packed nightclub overnight, killing two people and injuring five others, police said.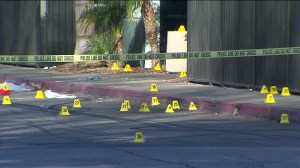 About 200 people were leaving Stingers Bar and Nightclub in the 100 block of West Club Center Drive (map) just after 1:45 a.m. when the gunfire erupted, according to the San Bernardino Police Department.
A separate but likely "related" shooting also occurred at an Arco gas station located about a quarter-mile down the road, according to San Bernardino police Lt. Rich Lawhead.
Dozens of rounds were believed to have been fired by multiple shooters between the nightclub and the gas station, Lawhead said.
A total of seven victims were located between the two scenes.
The two victims who died were identified as Petetrial Michael Scott and Jerry Jamale Jackson, both of San Bernardino.
Of the five people who were injured, two were in extremely critical condition, according to Lawhead.
A motive for the shooting was not immediately known, but the area was known for gang activity, according to Lawhead.
"We do believe that this is a gang-related shooting," he told reporters at a news conference before dawn.
One witness, Eugene Jones, said he was telling clubgoers to leave the building when he heard shots ring out outside the building.
Three of his friends were among those hit by the gunfire, according to Jones, a nightclub promoter who was working at the time of the incident.
"I walked to my friend, and she was shot. Then I looked around and they said my other friend was shot. Then I walked outside and they said my other friend was shot," he said.
"It's kind of heartbreaking," Jones added. "I don't do the club events for this to happen."
Investigators remained on the scene throughout the morning as they combed for evidence and searched for clues in the area.
Several hours after the shooting occurred, dozens of family members and friends of the victims were involved in a "disturbance" at Loma Linda Hospital, according to the San Bernardino County Sheriff's Department.
Approximately 75 people became "uncooperative" and "combative" with hospital personnel after they were told one of the victims had died, a news release from the department stated.
No one was hurt in the connected incident.
KTLA's Kennedy Ryan contributed to this story.
More Video: