This is an archived article and the information in the article may be outdated. Please look at the time stamp on the story to see when it was last updated.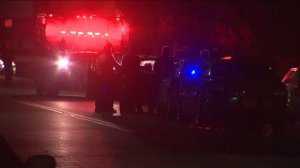 At least two people were dead Friday after a gunman shot at least four people near the 101 Freeway in East Hollywood, police said.
Two individuals were taken to the hospital in critical condition, police said, adding that all of the victims were men.
The shooting was reported around 8 p.m. at 555 N. Heliotrope Drive, according to L.A. Police Department Officer Mike Lopez.
Authorities said they were searching the neighborhood for one or possibly two gunman. Witnesses said he walked up to a gathering that was assembled and opened fire on the crowd after yelling a gang name, but police were still unsure whether the incident was gang-related, the Los Angeles Times reported.
There was no known motive, according to LAPD Sgt. Andre Rainey.
Anyone with information about the shooter is asked to call the LAPD's Rampart Division at 213-484-3400.