This is an archived article and the information in the article may be outdated. Please look at the time stamp on the story to see when it was last updated.
A South El Monte man died after losing control of his car on the rain-slickened 101 Freeway in Hollywood Hills early Saturday, according to the California Highway Patrol.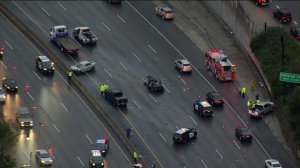 Carlos Enrique Quevada Jr., 20, died at the scene of the crash, which took place shortly after 5 a.m. in the northbound lanes of the freeway, just north of Barham Boulevard, Officer M. Bembi of the CHP's Central Los Angeles-area office said in a written statement.
He was at the wheel of a 2000 Acura sedan traveling at an unknown speed in the No. 3 lane prior to the crash, officials said. The road was wet with rain from the night and there was a light drizzle at the time.
"The Acura hydroplaned and lost control, colliding with the concrete center median," Bembi said. "The driver of the Acura was ejected upon impact and came to rest within the center median of southbound lanes."
Paramedics pronounced Quevada dead at the scene.
Another multi-vehicle wreck occurred nearby in the the wake of the fatal crash that left several people hurt, but none seriously, officials said.
Northbound lanes of the freeway remained shut down through 9 a.m., officials said.