This is an archived article and the information in the article may be outdated. Please look at the time stamp on the story to see when it was last updated.
At least one person died and five others were hospitalized after a big rig crashed into several vehicles near Lake View Terrace and Pacoima on Friday morning, according to officials.
The crash occurred just before 6:40 a.m. at Paxton Street and Foothill Boulevard, near the 118 and 210 Freeway interchange (map).
The driver of a big rig lost control of his truck, which went careening down an embankment off the eastbound 210 Freeway onto surface streets, where it slammed into several vehicles below, according to the California Highway Patrol.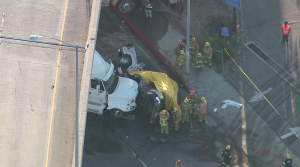 "He had a coughing attack and lost control of his vehicle, causing it to veer to the right onto the shoulder and down the embankment," CHP Officer Ming Hsu said.
The big-rig driver had already passed the exit when he veered onto the embankment and then onto the off-ramp below, Hsu said. An SUV and passenger vehicle were stopped at the bottom of the off-ramp, preparing to make turns onto surfaces streets, Hsu said.
"The big-rig barreled through them, pushed them into the intersection, ended up broadsiding the pickup truck, pushing it into the dump truck," the officer said.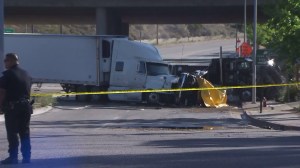 Video showed several mangled cars, one of which was overturned.
The body of the driver of the pickup truck remained inside the vehicle, and workers were still trying to free him by early afternoon.
Hsu identified the victim as Jorge Luis Garcia-Lara, 32, of Sylmar. His family was at the scene.
Four others were taken to area hospitals in critical condition, and a fifth person had minor injuries, according to authorities on scene. One of those hospitalized was a passenger in the pickup.
Debris was strewn across the roadway, which was covered in skid marks.
Investigators were looking into whether distracted or drunken driving were factors in the crash, but initial evidence did not indicate they were, Hsu said.
CHP logs initially stated five vehicles and two big rigs were involved in the collision.
Check back for updates on this developing story.
More Video: