This is an archived article and the information in the article may be outdated. Please look at the time stamp on the story to see when it was last updated.
Authorities were searching for a man and woman who killed one person and injured others during an apparent shooting rampage in which they targeted victims at random Saturday afternoon in the La Mirada and Whittier areas, according to the Los Angeles County Sheriff's Department.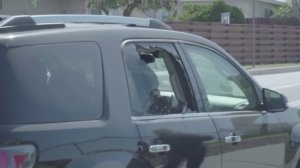 The incident began around 2:15 p.m. with a report of a carjacking in Pico Rivera, the Los Angeles Times reported.
The carjacking was followed by shootings in Whittier, Norwalk and possibly Pico Rivera as well, Los Angeles County Sheriff's Department Sgt. Vincent Plair told KTLA.
One man died around 4 p.m. after being shot in the area of Santa Gertrudes Avenue and Alicante Road in La Mirada, according to a sheriff's news release. He has yet to be identified.
"There are additional shootings in the surrounding areas involving multiple victims. The number of victims, as well as their conditions are unknown at this time," the release stated.
At a late evening news conference, Lt. Rodney Moore of the Sheriff's Homicide Bureau said it appeared the victims were targeted at random, including the man who was killed.
"This crime was unprovoked, and the victim of the homicide appeared to be a completely innocent person," he said. "Seems to be a senseless act of violence, and there is no reason for this act of violence to have occurred that we can find at this time."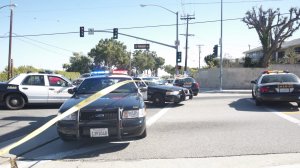 It appeared the same suspects, a man and woman, were involved in "several assaults with a firearm" earlier in the day before the fatal shooting, according to the Moore.
"These two individuals appear to be extremely violent," Moore said.
The vehicle, a green Nissan SUV, was later located abandoned at Amelia Mayberry Park in Whittier.
A description of the two wanted individuals has not been provided.
An investigation into the various crimes is ongoing, and no further information was immediately released.
KTLA's Meghan McMonigle contributed to this story.