This is an archived article and the information in the article may be outdated. Please look at the time stamp on the story to see when it was last updated.
A 37-year-old man who was mistakenly released from Los Angeles County Sheriff's Department's custody was arrested Monday, nine days after his release, outside Las Vegas.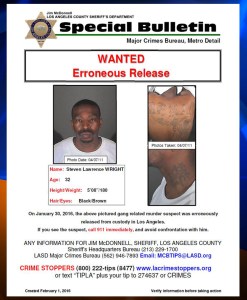 Steve Lawrence Wright was taken into custody after investigators got a tip that he might be at a hotel in Boulder City, the Sheriff's Department announced.
He was taken into custody after the FBI went to the hotel. He was being held in Nevada pending an extradition hearing.
Wright was released erroneously on Jan. 30 from the Inmate Reception Center. Authorities didn't realize he was missing till the next day.
He was in custody, awaiting trial on a murder charge in a 2011 gang-related killing that took place in Pasadena.
No additional charges will be filed against him, the Sheriff's Department said.
A $20,000 reward was offered for his re-arrest.