This is an archived article and the information in the article may be outdated. Please look at the time stamp on the story to see when it was last updated.
A seven-acre brush fire that briefly threatened 30 homes in Murrieta is now 80 percent contained and is no longer threatening any structures, fire authorities said.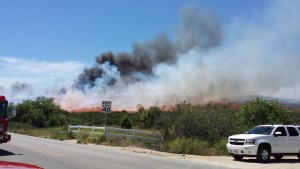 Murrieta firefighters responded to the blaze near Los Alamos and Meniffe roads at about 1:30 p.m., said Capt. Matt Corelli of the Murrieta Fire Department.
About 80 firefighters, 15 engines, three air tankers and two helicopters were deployed to help combat the fast-moving fire. Firefighters were able to stop the fire's progress in about an hour, Corelli said.
Los Alamos Road remains closed between Whitewood and Briggs roads, but is expected to reopen this evening, the captain said.
Click here to read the full story at LATimes.com.