This is an archived article and the information in the article may be outdated. Please look at the time stamp on the story to see when it was last updated.
A Murrieta dad on a mission to make his son's wheelchair part of his annual Halloween costume created a new sensation this year: a snowspeeder from "The Empire Strikes Back."
The elaborate costume was modeled after the Rebel Alliance vehicle in the movie's iconic Battle of Hoth scene. Ryan Miller built it for his son Jeremy, a 7-year-old with spina bifida who is a lifelong "Star Wars" fan.
"We have always wanted to help him do fun and challenging things, so he plays wheelchair basketball, rugby, and soccer," Ryan Miller told KTLA.
Spina bifida is a birth defect in which babies' backbones do not fully form to enclose and protect the spinal column.
When the boy had hip surgery, his "accessories" became part of his costumes, Miller said.
Jeremy has gone as the Batmobile, Darth Vader in a TIE fighter, Jake and the Neverland pirates in a pirate ship, and Mickey on the Disneyland Main Street Electrical Parade.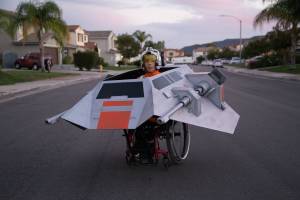 In 2014, Jeremy was Captain America on his motorcycle.
Ryan Miller's YouTube video, posted Wednesday, showed Jeremy shooting glow sticks from the snowspeeder, then smiling at the camera and giving a salute.
The new "Star Wars" film, "The Force Awakens," to be released Dec. 18, was an inspiration for this year's costume, Miller said.
It took two weeks of late-night and weekend work to assemble the costume, he said.