This is an archived article and the information in the article may be outdated. Please look at the time stamp on the story to see when it was last updated.
A former Murrieta Valley High School teacher appeared in court Friday, almost two months after she was arrested on suspicion of having a sexual relationship with an underage male student.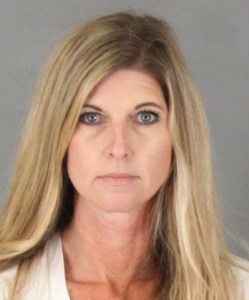 Shannon Fosgett, 44, pleaded not guilty to three felonies charges: one count of unlawful sexual intercourse with a minor under 18 and two counts of oral copulation with a minor, a spokesman for the Riverside County District Attorney's Office said in an email.
Fosgett had surrendered to Murrieta police detectives Dec. 4, two days after resigning her teaching position, the Murrieta Police Department said, citing the local school district.
The investigation began when police were informed of an alleged inappropriate relationship involving a Murrieta Valley High instructor and a male student. The case was later turned over to the Police Department's detective bureau.
Investigators interviewed the boy, who told them that one of his teachers "began showing interest in him over a year ago," in conversations that began with after-hours texting, according to authorities.
"As the relationship grew, the minor and the teacher engaged in oral sex and ultimately sexual intercourse," a police statement said. On Nov. 30, other students notified school administrators of the alleged relationship, spurring a report to authorities.
The instructor was subsequently identified as Fosgett, a Murrieta resident, the Police Department said.
Before she resigned her position as an earth sciences teacher, Fosgett had been placed on indefinite leave by the Murrieta Valley Unified School District. A statement about the matter was published on Murrieta Valley High's website.
In a December interview, a former student described Fosgett as "a really good teacher" who had helped her boost her grades when she was struggling academically in 2014.
"I heard rumors but I didn't really want to believe them. … I still kind of don't want to believe them because it seems really out of character for her," said the student, who did not want to be identified by name.
Fosgett was released from custody on the day of her arrest, after her bail was set at $40,000, records showed.