This is an archived article and the information in the article may be outdated. Please look at the time stamp on the story to see when it was last updated.
A number of photos showing mysterious jelly-like creatures that recently washed up on the sand in Huntington Beach have prompted rampant speculation on social media.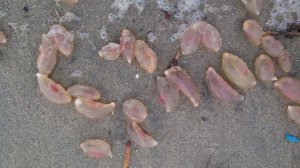 One Facebook user, Ryan Rustan, wrote that he was walking on the shoreline Monday night when he felt "little water balloons popping under my feet, super squishy."
He said looked down and was unsure what exactly he had stepped on.
"Couldn't tell if they were jellyfish or eggs but there are thousands up and down the beach," Rustan wrote on Facebook, sharing the post to the Huntington Beach Community Forum group.
Rustan told KTLA he saw the creatures near 10th Street and Pacific Coast Highway, on the north side of the Huntington Beach Pier, but said they were "all over" the beach.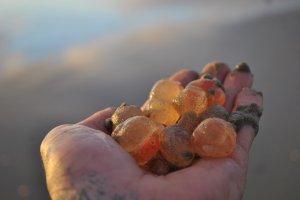 Dan Coursey, who also posted pictures of the jelly-like pods to the same Facebook group, wrote that the creatures burrowed in the sand.
He was walking down the beach Monday when he spotted hundreds, if not thousands of the creatures. He told KTLA he's been walking on the beach for decades and had never seen anything like it.
"It feels like feels like Jello," Coursey said described, holding one in his hand. "If you were a little kid, you'd love to have something like this so you can drop down your sister's shirt."
Both posts prompted a number of comments about what the mysterious creatures are, with guesses ranging from baby jellyfish to burrowing sea cucumbers. A number of commenters believe they are salps, which are a type of invertebrate marine animal.
Some simply called them "creepy sea creatures," while others speculated they were alien life forms.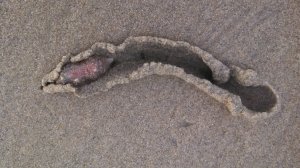 Christopher G. Lowe, a marine biology professor at Cal State Long Beach who is the director of the university's shark lab, told KTLA that the the school's resident invertebrate expert says they are sea cucumbers.
Huntington Marine Safety Lt. Claude Panis, who has worked for the lifeguard department for nearly 40 years, told the Orange County Register he was unsure what the jelly creatures were; however, he said it was possible they were a lingering effect of last winter's El Niño.
"There's all kinds of weird things happening," Panis told the newspaper, noting that was not the only unusual occurrence in the Huntington Beach area.
In addition, a number of stingrays have been spotted uncommonly close to shore.
"It's just strange," Panis said.
KTLA's Jennifer Thang and Cindy Von Quednow contributed to this story.