This is an archived article and the information in the article may be outdated. Please look at the time stamp on the story to see when it was last updated.
One of the two female bodies found on a hillside in a popular Montecito Heights park was identified Thursday as that of a 19-year-old woman, and the other victim was thought to be 17.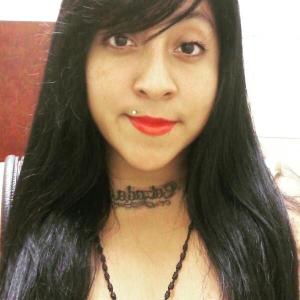 The positively identified victim was Gabriela Calzada, 19, according to Lt. R. Hayes with the Los Angeles County coroner's office.
No autopsy had been completed on Calzada, whose date of death was listed as Wednesday, when her body was found in Ernest E. Debs Regional Park, Hayes said.
Investigators have tentatively identified the second victim, who was a minor, LAPD Cmdr. Andrew Smith said. Her name was not being released.
Smith told the Los Angeles Times the second victim was 17.
While the coroner had not determined a cause of death for either teenager, investigators told KTLA that both bodies showed evidence of blunt force trauma.
Investigators also revealed Thursday that Calzada had been reported missing around 9 p.m. Wednesday, several hours after her body had already been found.
On Wednesday, police on scene at the sprawling park in Northeast L.A. said the women were thought to be between the ages of 18 and 25. They were fully clothed and showed no signs of sexual assault.
Aerial video from Sky5 showed the bodies lay in a brushy area only a few dozen feet from a trail.
Investigators said they did not know how the bodies got to the park or how they died, and murder-suicide had not been ruled out.
Police said the bodies did not appear to have been at the location very long.
The case was being investigated as a homicide by LAPD's Hollenbeck Division.
The bodies were first reported by a woman walking her dog about 2:20 p.m. Wednesday.
Witnesses said a woman ran down to the southern edge of the hilly park in tears, and someone else called 911.
The discovery left the neighborhood on edge, and had people talking about recent crimes in the park, which is popular for its walking trails and city views.
"I work close by, so I come home walking. To come home and to find this, it's scary," Bertha Mendez told KTLA.
In the past weekend, a male flasher was reported in the park, residents said.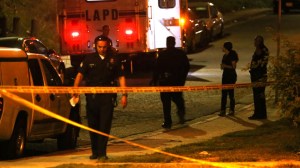 And last year, police released a sketch of a man wanted in connection with a series of assaults on women in the park.
The assaults occurred in January, June and July 2014. The first involved a man groping a woman taking a walk, the second involved a man flashing his genitals at a woman, and, in the third, a man armed with a knife punched a woman and then ran away.
Police have not said if there is any connection between those incidents and the bodies found Wednesday.
A Hollenbeck Division sergeant cautioned Wednesday that the case could take a long time to investigate.
More video: