This is an archived article and the information in the article may be outdated. Please look at the time stamp on the story to see when it was last updated.
A man who was naked when he allegedly assaulted a 75-year-old woman and forcibly took her dog has been arrested, the Irvine Police Department announced on Wednesday.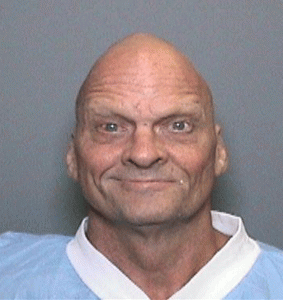 Officers responded to a report of a man acting strangely on Rockwood Street at around 2:30 p.m. Tuesday and found the suspect, 51-year-old Craig Andrew Ledbetter, naked and aggressively swinging a stick, Irvine police officials said in a news release.
They later discovered that he had allegedly assaulted Sara Hurtado, who had been out walking her dog when she was viciously attacked, the release stated.
"This neighbor had come out of the house screaming, naked and attacked her from behind while she was innocently walking our toy poodle," her son-in-law Neil Fitzsimons told KTLA.
The naked assailant started punching and kicking her. He eventually pushed the grandmother of four to the ground, Fitzsimons said.
"Our dog tried to attack him and delay him a little bit," Fitzsimons said. "He was so annoyed with the dog, he took the dog by the leash and started spinning it around."
In the struggle, the dog's collar came loose and it ran away, police said in the release.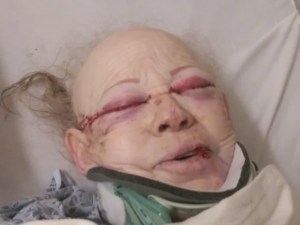 Photographs taken in the hospital showed the brutality of the attack. Hurtado eyes were both swollen shut. She suffered a dislocated shoulder, a broken arm, internal bleeding and bite marks on her chest and back, Fitzsimons said.
A neighbor who did not want to be identified said he witnessed the victim trying to shield herself from the blows.
"He was kicking, he was hitting … with all kinds of foul language that I cannot even repeat," the neighbor said.
Two other neighbors intervened and called police.
Officers used a Taser to take the suspect into custody after he allegedly ignored their commands. He was arrested and booked on suspicion of aggravated assault, elder abuse, animal cruelty and resisting a police officer, according to the Police Department.
A motive for the assault was not known, according to the release. It did not appear that Ledbetter and the victim knew each other.
The runaway dog was eventually located by animal control officers near the 405 Freeway and returned to its home.
The incident remained under investigation, and anyone with information has been asked to call Detective Gavin Hudson at 949-724-7168.