This is an archived article and the information in the article may be outdated. Please look at the time stamp on the story to see when it was last updated.
A homeowner in Venice Beach called police Friday morning after a man entered a residence and began taking his clothes off.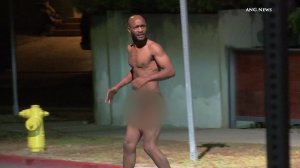 The incident in the 800 block of Flower Avenue was reported to police just before 2 a.m., said Sgt. Peters with the Los Angeles Police Department.
The intruder fled the home naked after being confronted by the homeowner, Peters said.
Video from the scene showed a naked man being taken into custody by police.
The man was expected to face charges in connection with the incident, Peters said.
No injuries were reported.
KTLA's Alberto Mendez contributed to this report.