This is an archived article and the information in the article may be outdated. Please look at the time stamp on the story to see when it was last updated.
A naked man was taken to a hospital after barricading himself inside a crawl space beneath an apartment building in Sherman Oaks on Sunday, authorities said.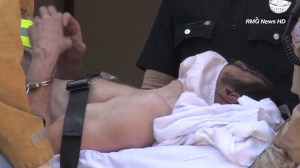 The Los Angeles Fire Department responded to the 14900 block of Dickens Street (map) shortly before noon after receiving a report that a man had crawled beneath an apartment building.
When emergency crews arrived, they discovered he had barricaded himself in position, according to LAFD Battalion Chief Randy Beaty.
"Fire department resources found that he was possibly not operating in a normal manner, not responsive to direction, and so it began an extended operation to get him out," Beaty said.
After developing different options to get the man out, firefighters crawled inside the space and were eventually able to talk him into getting out on his own, according to Beaty.
The unidentified man, estimated to be around 25 years old, was then quickly covered in a white towel and carried by multiple rescue personnel to a gurney, video form the scene showed. He was then restrained with handcuffs and a mask was placed over his mouth.
The man was taken away from the scene by ambulance and was getting medical treatment, according to Beaty.
No further information was available.