This is an archived article and the information in the article may be outdated. Please look at the time stamp on the story to see when it was last updated.
A naked 21-year-old man was hospitalized Tuesday night after a bizarre incident in which he damaged a minivan before jumping onto the hood of a moving car at an apartment complex in Anaheim, authorities said.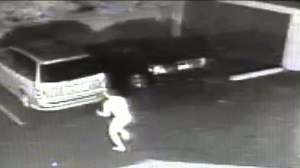 Officers responded about 11:30 p.m. to a report of a hit-and-run collision on Mungall Drive, said Lt. Eric Trapp of the Anaheim Police Department.
Surveillance video shows a man running through the parking lot before hurling himself head-first into the rear window of a parked Mazda minvan. The window shatters and the man falls to the ground.
Meanwhile, a woman whose car was parked next to the minivan began backing out of her parking space. Startled by the sight of the naked man, she struck a fence while the car was moving in reverse, Trapp said.
After the woman began driving forward, the man then jumped onto her car. The video shows the vehicle grazing the minivan before the driver speeds away and the man is thrown to the ground.
Garret Smith, of Riverside, was taken into custody near the intersection of Lincoln Avenue and Holder Street in Buena Park (map), about a mile from the scene, police said.
He was taken to a hospital and later released.
Trapp said authorities will consider filing appropriate charges based on the pending results of a blood test that was administered to Smith.