This is an archived article and the information in the article may be outdated. Please look at the time stamp on the story to see when it was last updated.
A 22-year-old U.C. Santa Barbara student was arrested after allegedly assaulting an Isla Vista pastor at his home in an attack Saturday that is believed to have been random, authorities said.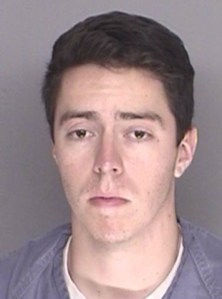 The incident began around 2:15 a.m. in the 6800 block of Fortuna Road when Father Jon-Stephen Hedges heard someone urgently knocking on his front door yelling for help, according to a news release from the Santa Barbara County Sheriff's Office.
Hedges opened the door to provide assistance and came face-to-face with Paul Gusman, who was naked from the waist down, the release stated.
Gusman allegedly forced his way into the home and began punching Hedges repeatedly in the face, striking him more than 30 times, according to the Sheriffs' Office.
The victim's wife — who was also hit on her right hand by the suspect — managed to call 911, the release said.
Sheriff's deputies from the Isla Vista Foot Patrol arrived at the home and found Gusman in the front yard, apparently under the influence of a controlled substance and possibly intoxicated, according to authorities.
He was arrested and booked at the Santa Barbara County Jail on charges of assault with force likely to produce great bodily injury, residential burglary, elder abuse and dissuading a witness/victim, the release stated.
Hedges was taken to a hospital with major injuries, but was released later in the day. He is an assistant pastor at St. Athanasius Orthodox Church, as well as a volunteer chaplain for the Sheriff's Office.
Based on preliminary evidence, investigators believe the suspect was not acquainted with the victim, and that the attack was random, according to the release.
Gusman is being held on $500,000 bail.  He is scheduled to be arraigned Tuesday.