This is an archived article and the information in the article may be outdated. Please look at the time stamp on the story to see when it was last updated.
Scientists at UC Berkeley released a video showing an earthquake early-warning system that sent an alert before the magnitude-6.0 Napa earthquake Sunday morning.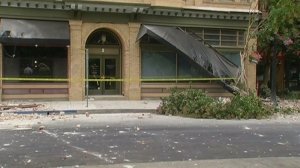 Officials said the system provided an alert 10 seconds before the quake was felt.
California is working to complete a statewide system, which could be unveiled in the next few years.
Once fully developed, the system could give downtown Los Angeles 40 to 50 seconds of warning that the "Big One" was headed from the San Andreas fault, giving time for elevators to stop at the next floor and open up, firefighters to open up garage doors, high-speed trains to slow down to avoid derailment and surgeons to take the scalpel out of a patient.
Click here to read the full story on LATimes.com.