This is an archived article and the information in the article may be outdated. Please look at the time stamp on the story to see when it was last updated.
The freak lightning strikes at Venice Beach not only alarmed the hundreds of beachgoers who were there on Sunday, but also came as a surprise to scientists, who said lightning strikes in the coastal Southern California area are extremely rare.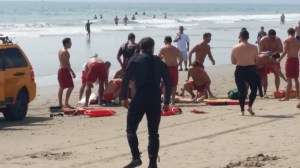 A total of four bolts hit Venice Beach that afternoon, according to the National Weather Service.
At least one of the bolts hit the ocean directly, electrifying the water and zapping nearby swimmers and surfers.
A 20-year-old man, identified on Monday as Nick Fagnano, was killed and about a dozen others were injured in the sudden strike, according to the Los Angeles Fire Department. Of the injured, seven people were hospitalized, and one of the victims remained in critical condition as of Monday.
"There are lightning procedures that we use in the forest area, but right here we have people having a good time on the beach," said Brian Jordan of the L.A. County Fire Department. "It was not expected."
In fact, not only was it was an extremely rare event, but it was one that would have been nearly impossible to predict, according to climatologists.
"It happened so quickly. … In itself, the randomness, makes it so frightening," NASA climatologist Bill Patzert said.
The odds of getting struck by lightning in coastal Southern California are roughly 1 in 7 to 10 million, according to Patzert.
"In the last 30 or 40 years, I can't ever remember a lightning fatality at the beach in Southern California," he said.
For those in the Venice Beach area on Sunday, the strike came as a surprise.
Alex Thompson, a Venice local, said it was sunny outside when the lightning and thunder first rolled in.
"I thought the building next door exploded, it was so loud," Thompson said.
She added that it did not even start raining until about 30 minutes later.
"Whatever you think, Mother Nature is going to deal you another hand," Thompson said. "So take your expectations and put them someplace else because she's got other plans in mind."
Patzert had one piece of advice for those worried about potential lightning strikes.
"So the simple rule of thumb is, if you hear thunder, head for cover," he said.