This is an archived article and the information in the article may be outdated. Please look at the time stamp on the story to see when it was last updated.
An image released by NASA shows just how much vegetation the Woolsey Fire charred across Ventura and Los Angeles counties, underscoring the danger of possible debris flow amid expected rainfall on Wednesday.
The blaze, which reached 100 percent containment Wednesday night, left a scar "so large that it is easily visible from space," NASA said. It incinerated nearly 100,000 acres after igniting near Simi Valley 13 days ago.
The agency's Terra satellite captured a view of the fire's aftermath. The enhanced image shows in brown the large swath of burned vegetation spanning from southeast Ventura County to Malibu.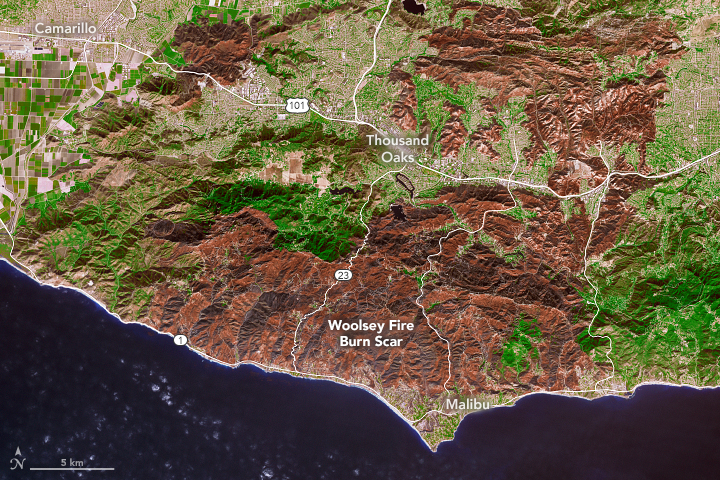 According to the L.A. Fire Department, the communities affected by the flames will remain at risk for debris flow until the vegetation regrows, which often takes three to five years.
Forecasters predicted a weak storm in the region Wednesday night, with peak rain expected from 10 p.m. to 4 a.m. Still, multiple agencies in the area urged residents to brace for any threat of mud or debris flows.
Experts also warned that stronger storms in upcoming months could trigger life-threatening mudflows.
Earlier in the year, the mudslides that hit Montecito a month after the Thomas Fire erupted killed 21 people.
Those who live near scorched hillsides should take heed, National Weather Service meteorologist Eric Boldt said.
"You don't want to be there when the rain starts," he cautioned. "There's just not enough time to wait and see what happens."
Due to approaching rain, residents in areas prone to flooding need to prep for mudslides/debris run off. Check here for fire stations handing out free sandbags https://t.co/ehpxnu8edD. For info/tips on how to prep for rain-related dangers: https://t.co/o3596ksHXm #LAWeather #LASD pic.twitter.com/n1ayyfSNys

— LASD Lost Hills Stn. (@LHSLASD) November 22, 2018