This is an archived article and the information in the article may be outdated. Please look at the time stamp on the story to see when it was last updated.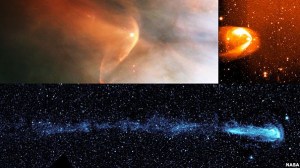 Scientists working on NASA's Interstellar Boundary Explorer mission have nabbed their first direct glimpse of the so-called heliotail, the long trailing edge of the solar wind. Much to their surprise, three years of data from IBEX, as the Earth-orbiting craft is known, showed that the tail has a sort of clover shape, with separate "lobes" of faster- and slower-moving solar wind.
The scientists detailed their discovery in a study in the Astrophysical Journal and during an online news media event (video available here) Wednesday.
"Scientists always presumed the heliosphere had a tail,"  IBEX mission scientist Eric Christian said during the conference.  "But this is the first real data we have that gives us the shape of the tail.  We've never taken a picture of it."
GRAPHIC: VOYAGER'S VIEW OF THE SOLAR SYSTEM
The heliosphere is the vast magnetic bubble around the solar system, created by solar wind emanating in all directions from the sun.  As the heliosphere moves through the interstellar medium, its tail trails behind — much like the tail of a comet, according to study lead author and IBEX principal investigator Dave McComas of the Southwest Research Institute in San Antonio.
Click here to read more on the LATimes.com.