This is an archived article and the information in the article may be outdated. Please look at the time stamp on the story to see when it was last updated.
Rescue crews have been searching for a Manhattan Beach resident who went missing during an excursion in Kings Canyon National Park more than a week but are halting the operation due to a series of winter storms forecasted to hit the area in the coming week, park officials said Friday.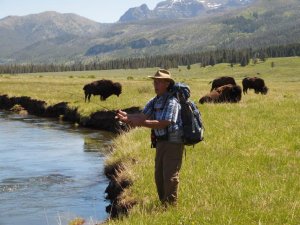 Field teams searching for Robert "Bob" Woodie were pulled from the field Wednesday in anticipation of the forecasted inclement weather,  according to a statement from Sequoia and Kings Canyon National Parks, but air searches, backcountry patrols and outreach to hikers in the area will continue.
Woodie, 74, has been missing since Oct. 16, when he failed to return from a four-day backpacking trip in the Eastern Sierra as planned.
"We've completed very thorough ground and aerial searches in very difficult terrain over the last nine days, but the storms would put our search teams at risk and decrease our ability to find clues," Rich Browne, the mission's incident commander, said in a press release. "When it clears, we'll reassess, but it does look like weather and snow coverage will end our ability to continue active ground and aerial search operations."
An electronic check-in from Woodie's satellite GPS device Oct. 15 near Barrett Lakes was the last clue of his whereabouts. A winter storm struck that night and carried into the next day, bringing high winds, snow and freezing temperatures to the area, according to rescue personnel.
Field teams will resume operations in the 26-square-mile search area if parks officials receive leads about Woodie's location, officials said. More than 130 personnel from nine agencies have been involved in the search so far.
Authorities described him as caucasian with brown hair and eyes, 5 feet 5 inches tall and around 150 pounds, and said he is an experience hiker familiar with the region. His equipment reportedly included an internal frame backpack, possibly blue, but he did not have hiking poles.
The National Park Service asks the public to contact them at 559-565-3195 if they were in the search area between Oct. 13 and 20.