This is an archived article and the information in the article may be outdated. Please look at the time stamp on the story to see when it was last updated.
Organizers say fast food restaurant workers in 100 U.S. cities will walk off the job Thursday, as part of a continuing push to raise wages above $15 an hour in the industry and secure the right to unionize.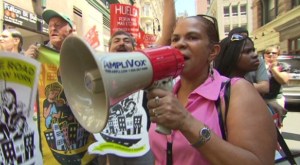 The movement began with a small walkout in New York City last year and has since gathered momentum. Strikes this past August drew fast food workers in 60 cities, organizers said.
The National Restaurant Association contends that the demonstrations are a "coordinated PR campaign engineered by national labor groups," and that "relatively few restaurant workers have participated" in past demonstrations.
A McDonald's spokeswoman said the events planned for Thursday "are not strikes," and consist only of outside groups "traveling to McDonald's and other outlets to stage rallies."
Industry officials have criticized the campaign, claiming increased starting wages will hold back job growth and increase prices.
The effort has drawn support from the Service Employees International Union, one of the country's largest, as well as activist groups. A MoveOn.org petition that has drawn nearly 50,000 online signatures calls on industry leaders "to pay your workers $15 an hour so they can make ends meet and Americans can stop paying for the hidden costs of poverty wages."
In Congress, a group of 53 lawmakers sent letters Wednesday expressing support for higher wages to McDonald's, Wendy's, Domino's Pizza, Burger King and Yum! Brands, which operates KFC, Pizza Hut and Taco Bell.
"We are proud to stand with workers who continue to fight for an economy that works for everyone," the officials wrote.
A McDonald's spokeswoman said Wednesday that the company is "committed to providing our employees with opportunities to succeed," offering competitive pay, training and the chance for advancement. Wendy's said it was proud to give entry-level employees "the opportunity to learn important business and personal skills so they can either grow with us or move on to another career."
Domino's rejected the "fast food" label, and said only three of its employees had taken part in the August protests, none of whom were scheduled to work at the time. The pizza maker said its delivery drivers make more than minimum wage with tips included, and that it serves as a second job for many employees who work only evenings and weekends.
"90 percent of our U.S. franchisees started as delivery drivers or at in-store positions," as did many other managers and corporate staff members, spokesman Tim McIntyre said. "We are a company of opportunity."
The other companies did not immediately respond to requests for comment.
President Obama also called out the plight of fast food workers in a speech Wednesday, saying they "work their tails off and are still living at or barely above poverty." He said it was "past time" to raise the minimum wage.
A report released in October by the University of California-Berkeley Labor Center and the University of Illinois found that 52% of families of fast food workers receive some form of public assistance. The report estimated that this aid carries a $7 billion annual price tag for taxpayers.
The median pay for the fast food workers nationwide is just over $9 an hour, or about $18,500 a year. That's roughly $4,500 lower than Census Bureau's poverty income threshold level of $23,000 for a family of four.
The rallies planned for Thursday follow protests last week at a number of Wal-Mart locations, where workers and activists have called on the company to grant workers more hours and pay full-time employees at least $25,000 a year.