This is an archived article and the information in the article may be outdated. Please look at the time stamp on the story to see when it was last updated.
A brother and sister, who were separated 30 years ago when their parents split up, were reunited at the Naval Medical Center Friday in San Diego, according to local media reports.
Cmdr. Cindy Murray and her brother, Chief Aviation Ordnanceman Robert Williamson, both grew up in Colorado and both now serve in the Navy in Southern California, the Navy website reported.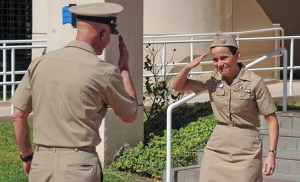 The two were separated in the 1970s and lost touch.
Their reunion was set in motion when Murray reached out to her estranged father.
During the conversation he mentioned that her brother was also in the military.
Murray looked him up in the military database and arranged to meet.
Cameras were there as the pair saluted each other and embraced during their emotional reunion.
"Both of us being from Colorado, I didn't think anybody else from Colorado would join the Navy," Williamson said.
The pair revealed they plan to spend the holidays together.