This is an archived article and the information in the article may be outdated. Please look at the time stamp on the story to see when it was last updated.
An estimated 9.8 million people felt a magnitude 4.4 earthquake that rumbled across the Bay Area early Thursday, the U.S. Geological Survey reported.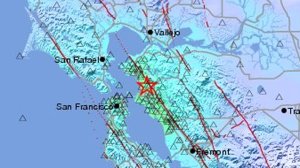 It was felt throughout the region, with people more than 150 miles away reporting to the agency that they felt the shaking for perhaps five to 10 seconds, according to officials. Near San Francisco International Airport, several jolts could be felt.
According to responses on the USGS website, more than 9.8 million people were in the zone that could feel weak, light or moderate shaking. The earthquake was downgraded to a magnitude 4.4 after initial data suggested it was larger.
Items in a San Leandro store were knocked off the shelves, video from KRON4 showed, and Bay Area Rapid Transit started Thursday with train delays as workers performed a system-wide check for damage about 4 a.m.
Read the full story on LATimes.com.