This is an archived article and the information in the article may be outdated. Please look at the time stamp on the story to see when it was last updated.
More than 1,700 cannabis plants and nearly 20 pounds of processed marijuana were seized from two outdoor grows in San Bernardino County, which law enforcement officials allege were not in compliance with county and state laws, authorities said Wednesday.
The suspect in the massive drug seizure was identified by authorities as 70-year-old Craig Schaffnit of Big River.
About 8:45 a.m. on Tuesday, investigators served search warrants at two different outdoor marijuana grows, located in the unincorporated communities of Vidal and Big River, according to the San Bernardino County Sheriff's Department.
Investigators discovered more than 1,709 marijuana plants and 19 pounds of the drug in processed form at the two properties, sheriff's deputies said. Authorities said there's evidence linking the two together.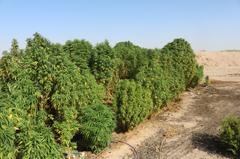 San Bernardino County outlaws any growing of commercial cannabis in unincorporated areas.
Meanwhile, the Sheriff's Department also alleges the grows were not in compliance with California's Medical and Adult Use Cannabis Regulation and Safety Act. However, officials did not go into detail about that allegation in a news release.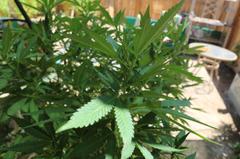 The first grow was located near the intersection of Old Parker Road and Citrus Ranch Road in Vidal, officials said. There were four vacant parcels there and investigators seized about 1,637 marijuana plants from the site.
At the second location — in the 149000 block of Del Rey Drive in Big River — authorities seized 72 plants and 19 pounds of processed marijuana, sheriff's deputies said.
Authorities are expected to assist in telling the property owners about the allegedly illegal grows.
In a news release, the Sheriff's Department said property owners who grow marijuana unlawfully, or are aware of tenants who are, can also face legal repercussions and potentially criminal charges.
No further information was released by authorities.