This is an archived article and the information in the article may be outdated. Please look at the time stamp on the story to see when it was last updated.
Amid the charred landscape of Little Tujunga Canyon Road in Sylmar on Wednesday stood the remains of Rancho Padilla and the carcasses of nearly 30 horses who died in the fast-moving Creek fire.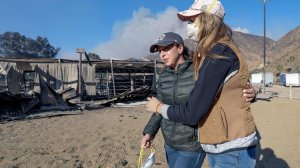 The Padilla family was there Wednesday morning, surveying the smoldering ranch that their father built more than 20 years ago. They somberly counted up the dead horses, whose charred bodies lined dozens of stalls.
The family, who lives up the hill from the ranch, had awakened Tuesday to flames. One firetruck came and told them to leave.
"All I could think about was the horses, the horses, the horses. And they were like, 'Get out, get out, get out,' " said Patricia Padilla, whose family owns the ranch. "The structures can get rebuilt, but the lives of the horses can't. … That's my biggest heartbreak."
Read the full story on LATimes.com.