This is an archived article and the information in the article may be outdated. Please look at the time stamp on the story to see when it was last updated.
After days of protecting his Ojai ranch in the hills above town from the siege of fire, Trevor Quirk and his friend, Justin Homze, hosted a community meal in the parking lot of an Ojai market.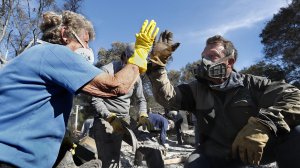 Someone donated 100 burritos. There were pints of blueberries. Coffee was served.
But that was just a start.
After the breakfast, Quirk drove around his community of 11 years, delivering food to families. People donated what they had, and before long, his truck was full. Weeks later, that same parking lot is the Upper Ojai Relief Center, a community-led project to help the victims of California's largest fire in recorded history.
Read the full story on LATimes.com.