This is an archived article and the information in the article may be outdated. Please look at the time stamp on the story to see when it was last updated.
A middle-aged Chula Vista couple was caught on camera stealing eggs from a neighbor's front yard that had been "hidden" for a 2-year-old boy's Easter egg hunt.
"I just couldn't believe what was happening," the boy's father Michael Ford told KTLA sister station KSWB in San Diego.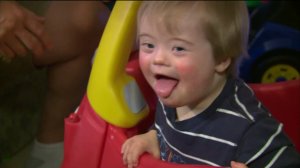 Ford had installed security cameras a few weeks before Easter.
When all the eggs he and his wife scattered on their front lawn for his son's Easter egg hunt went missing, Ford looked at the surveillance video. He was shocked by what he saw.
"You can see that the woman knows exactly what she's doing," Ford said. "When a car goes by, she jumps off the lawn and then ... gets right back to work."
The Fords prepared the Easter egg hunt for their son Gabriel, who has Down syndrome. Gabriel's mother said she and her son had been practicing for the hunt.
In January, the boy has just had surgery to separate his fingers, which were conjoined due to a condition called syndactyly, the San Diego Union-Tribune reported. Gabe recently had the casts removed and was practicing using his hands.
"We had been working weeks, teaching him how to ... pick them up and put them in the bucket, like that was part of his therapy session," said Gabriel's mother, Janet. "He doesn't understand what Easter is, but he loves to pick up eggs."
The video shows the pair pick up half a dozen eggs off the lawn. They leave and then the woman returns with two boys, who help her clear out the rest of the eggs.
"There's like one day a year everybody gets up and decides to go to church," Michael Ford said. "Well, apparently they didn't decide to go to church that day."
When other residents in the Fords' neighborhood learned about the egg theft, they set up a private Facebook group to organize an egg hunt for Gabriel to make up for the one that was stolen.
The family contacted authorities to report the theft, KSWB reported.