This is an archived article and the information in the article may be outdated. Please look at the time stamp on the story to see when it was last updated.
Nestlé has recalled some batches of Hot Pockets Philly Steak & Cheese sandwiches following a massive beef recall last week.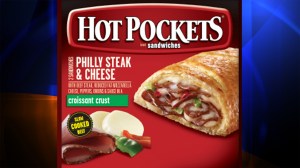 The Rancho Feeding Corp., based in Petulama, Calif., recalled nearly 9 million pounds of meat Friday, according to a news release from the USDA.
The USDA announced that the company was recalling the meat because Rancho Feeding Corp. had "processed diseased and unsound animals and carried out these activities without the benefit or full benefit of federal inspections," the release stated.
Nestlé then recalled a limited amount of Hot Pockets products after discovering some of the meat involved in the Rancho Feeding Corp. recall was used at a Chatsworth facility that makes Hot Pockets.
Customers who purchased the Hot Pockets should not consume them, but instead should return them to the store for a full refund or contact Nestlé Consumer Services at 800-392-4057.
No illnesses have been reported in relation to the Rancho Feeding Corporation recall, according to the USDA.
The products included in the recall are:
Hot Pockets Philly Steak & Cheese, 9 oz., UPC 43695 07107 8, Batch numbers:
3021544512 with a best before date of March 2014
3029544512 with a best before date of March 2014
3197544512 with a best before date of September 2014
3240544512 with a best before date of October 2014
Hot Pockets Philly Steak & Cheese, 54 oz., UPC 43695 07520 5, Batch numbers:
3022544513 with a best before date of March 2014
3191544512 with a best before date of September 2014
3224544512 with a best before date of October 2014
3254544512 with a best before date of November 2014
3268544512 with a best before date of November 2014
Hot Pockets Philly Steak & Cheese 22.5 oz., UPC 43695 15990 5, Batch numbers:
3197544512 with a best before date of September 2014
3240544512 with a best before date of October 2014
Hot Pocket Croissant Crust Philly Steak & Cheese, 9 oz., UPC 43695 05634 1, Batch numbers:
3211544512 with a best before date of September 2014
3248544512 with a best before date of November 2014
3283544512 with a best before date of December 2014