This is an archived article and the information in the article may be outdated. Please look at the time stamp on the story to see when it was last updated.
With the hills above Porter Ranch as a backdrop, a bipartisan group of state legislators stood at the entrance to Southern California Gas Co.'s troubled Aliso Canyon facility Monday and vowed to make changes to state law in response to the disastrous monthslong natural gas leak there.
State Sen. Fran Pavley, who represents the area, was joined by three Senate colleagues to announce a forthcoming series of proposed laws that would tighten regulations on the natural gas industry and clarify and simplify the patchwork of oversight agencies involved.
"One of our goals is just two simple words: Never again. How can we make sure that this kind of tragedy doesn't happen again?" Pavley said.
Urgency legislation requiring a bipartisan two-thirds approval in both houses of the Legislature would bring an immediate halt to new additions of natural gas to the Aliso Canyon facility, and would end use of "vintage" wells like the one that's leaking until such activities can be determined to be safe.
Pavley's announcement came less than a week after Gov. Jerry Brown declared the natural gas leak an emergency, saying Gas Co. must pay for costs related to the leak and response. One of Pavley's proposed laws would codify the utility's financial responsibility and ensure the bills be paid from SoCal Gas profits, with costs not being passed on to ratepayers.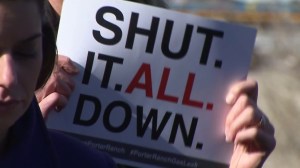 Paula Cracium, president of the Porter Ranch Neighborhood Council, said the response was "a little slow and maybe lackluster" at first, possibly because the leak didn't create a visible plume above the Santa Susana Mountains. But she welcomed the legislation.
"There needs to be a system in place where the community can feel safe that they know instantly when a leak happens, that someone knows about it, not just when someone happens to walk past it on a random test," Cracium said.
The leak was first detected in SS-25 — a well that runs about 1 1/2 miles underground into a naturally occurring reservoir that SoCal Gas uses for natural gas storage — on Oct. 23.
At its peak, it emitted the equivalent amount of greenhouse gases as 7 million automobiles or six coal-fired power plants, state Sen. Ben Allen said Monday. Some 82,000 metric tons of methane have escaped, according to a continually updated counter created by the advocacy nonprofit Environmental Defense Fund.
The private utility is working to drill a "relief well" and then plug the leak, an undertaking that's expected to be done by late February or March, according to the Los Angeles Times. The well will be shut down, utility executives told the Los Angeles City Council in December.
Until that's done, the leak is letting potent methane gas into the air — sickening residents and instantly becoming the greatest source of air pollution in California. The gas is accompanied by mercaptan, a smelly chemical added to alert residents to leaks of odorless natural gas.
Thousands of Porter Ranch residents have been relocated at SoCal Gas' expense, and hundreds of students at two local public schools have been sent to other campuses beginning Tuesday.
Multiple lawsuits have been filed against the Gas Co.
Residents in the largely affluent community of about 30,000 have complained of nausea and other symptoms. Development was approved in 1979, some 25 years after the well in question began operating, Pavley said.
The proximity of residential development to such facilities is an ongoing land-use question, but some 21 million residents in Southern California rely on the Aliso Canyon facility for natural gas supplies, and that service can't be interrupted, Pavley said.
Meanwhile, the senator's legislation will propose that all 14 underground natural gas facilities in California be inspected within the next 12 months, and at least annually thereafter, Pavley said. The state needs a plan to address aging natural gas infrastructure with a timeline for replacement of old equipment, she said.
The legislation will require the installation of subsurface safety valves, the use of new leak-detection technology, and the development of "rigorous response plans" like those instituted for oil spills, a press release from Pavley's office stated.
The package of proposed laws will also designate a single lead agency — the state Office of Emergency Services — to deal with such leaks in future, clarifying the role of the eight existing agencies involved in the Aliso Canyon leak.
The legislation is being drafted and the urgency portion should be released within a week, state Sen. Kevin de Leon said.
The first priority, Pavley said, is to stop the leak.
"This is a challenge. It is a tragedy, and I know we can do better," she said.