This is an archived article and the information in the article may be outdated. Please look at the time stamp on the story to see when it was last updated.
Whether you're quick or not, the principle is the same: If you step into a crosswalk after the countdown begins you're putting yourself at risk — at risk of a costly fine, that is.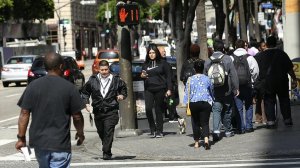 Or at least that's been the case as long as section 21456(b) of the California Vehicle Code has been around. Once the red hand appears on the crossing signal, "No pedestrian shall start to cross the roadway in the direction of the signal," the law states.
Thousands of Los Angeles pedestrians have learned the hard way of this counter-intuitive — some say unjust — point of state law.
During a four-year period examined by The Times, Los Angeles Police Department records showed that more than 17,000 citations were issued under that code section in downtown alone, at $197 for the basic violation.
Read the full story on LATimes.com.