This is an archived article and the information in the article may be outdated. Please look at the time stamp on the story to see when it was last updated.
Here we go again. The "New California" movement — launched to little fanfare in 2016 — made a splash in the news this week thanks to the issuance of a public "declaration of independence" calling for the formation of a 51st state in the U.S. and headlines on CBS, USA Today and the Drudge Report.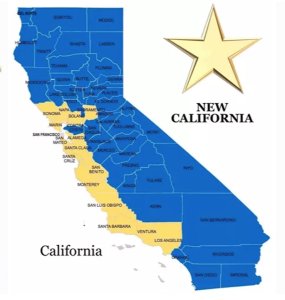 It's one in a long string of efforts for California to secede from the U.S. or be split into multiple states.
"New California is a new state in development by egregiously aggrieved Californians exercising our Constitutional right to form a new state separate from the tyranny and lawlessness of the state of California," the group's Facebook Page says.
The new state, as envisioned, would exclude parts of California along the coastline from Orange County north to Napa County; New California would include all other parts of California, including San Diego County, leaving the coastal stretch as California.
Read the full story on LATimes.com.