This is an archived article and the information in the article may be outdated. Please look at the time stamp on the story to see when it was last updated.
A slew of new laws pertaining to traffic and highway safety that were passed by the state legislature this year are set to go into effect in the coming year. California will usher in 2018 with some new laws pertaining to a variety of motorist and pedestrian issues, including marijuana consumption, crossing signals and parking.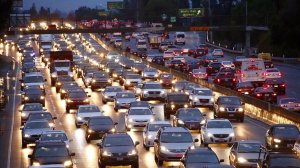 Vehicle Fees 
Part of Senate Bill 1, a transportation funding package to help improve roads and transit,  already went into effect in November when the state's gas tax went up. On Jan. 1, another portion of the measure kicks in, this one creating a new vehicle fee to be paid annually with registration. The fee ranges from $25 to $175, and will be assessed based on the value of the vehicle.
Marijuana and Driving 
Senate Bill 65, which was approved by Gov. Jerry Brown on Sept. 11, makes it an infraction to consume an alcohol beverage or marijuana while driving or riding in a vehicle. The measure expands upon existing language, which only prohibited drinking alcohol while operating or occupying a moving vehicle.
The new law takes effect Jan. 1, the same day recreational cannabis sales are set to become legal in California following the Nov. 2016 passage of Proposition 64. Violating the new law could result in a $70 fine as punishment, according to the Los Angeles Times.
SB 65 was among several new laws the California Highway Patrol sought to highlight before the beginning of the new year, according to a CHP news release.
Another law, Senate Bill 94, makes it illegal to possess an open container of cannabis or a cannabis product in an operating motor vehicle.
It also gives CHP authority over the safety of vehicles transporting the substance, and designates the CHP commissioner to serve as the chairman of an impaired driving task force. The task force has been created "to develop recommendations for best practices, protocols, proposed legislation, and other policies that will address the issue of impaired driving," according to the legislation.
Authorities expect that the legalization of recreational pot will lead to an increase in DUIs, CHP noted in the release.
Pedestrian Crossing Signals 
Assembly Bill 390 allows pedestrians to start crossing through an intersection when the traffic signal displays a flashing "Don't Walk" or "upraised hand," if the signal shows a countdown timer and the pedestrian can finish safely crossing before the flashing orange signal becomes steady. This law basically seeks to clarify to what point pedestrians can cross at a traffic light.
Bus Seat Belts
CHP also noted one additional law, Senate Bill 20, that does not become effective until July 1. The law stipulates that the driver and passengers in a tour bus must wear seat belts if they are provided on the vehicle. Additionally, the driver has to ensure the safety devices are working and must inform passengers of the legal requirement to wear their seat belt.
The law excludes school and transit buses.
Parking
Two new laws relate to parking, including Assembly Bill 1625, which reenacts a law that essentially prohibits local authorities from barring parking at a meter that isn't working. However, local jurisdictions can restrict the amount of time a vehicle can be parked at inoperable meters to four hours, so long as there are signs notifying the driver.
And under Assembly Bill 503, low-income individuals can have their parking citation debt reduced and they'll also be able to pay it over time.