This is an archived article and the information in the article may be outdated. Please look at the time stamp on the story to see when it was last updated.
The moment a sedan catapults off a center median and shoots into the side of a second-story dentist's office in Santa Ana was captured on new dashcam video released Monday.
The crash occurred early Sunday morning after the white Nissan, which had apparently been speeding down French Street, hit the center median and launched into the air, smashing into a dental office at 319 E. 17th St.
The car's two occupants both suffered only minor injuries, according to the Orange County Fire Authority.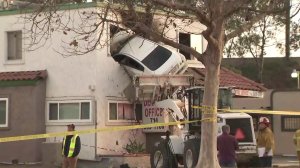 The driver told officers he had taken LSD, according to Santa Ana police Cpl. Anthony Bertagna, but officers are still awaiting results of toxicology tests to determine whether any arrests will be made or charges filed.
The new video released Monday by the Orange County Transportation Authority was captured by a bus on Route 60, which runs between Tustin and Long Beach down 17th Street and Westminster Avenue.
The footage begins just after the bus passes under the 5 Freeway overpass on 17th Street. The driver immediately pulled over and waited for authorities to respond, according to Eric Carpenter, a spokesperson for the transportation authority.
Fire officials first responded to the scene around 6:30 a.m. Sunday. The car remained lodged in the building for more than an hour and was removed around 7:50 a.m.
Diego Sartori, who was staying at a motel near the scene, said it felt like a Hollywood movie set.
Sartori said the driver's face was covered in blood as he dangled from a beam before being rescued by first responders.
After he was secured, the car began to shake, and authorities realized a passenger was still stuck inside.
"We were yelling at the passenger to not move so that the car wouldn't fall out of the building," Sartori said.
At one point a fire broke out, but it was soon extinguished, officials said.
The driver's identity has not been released.
OCFA on scene in SANTA ANA of a vehicle into a building. One person still trapped inside the vehicle. pic.twitter.com/sWmtovu0Kd

— OCFA PIO (@OCFA_PIO) January 14, 2018