This is an archived article and the information in the article may be outdated. Please look at the time stamp on the story to see when it was last updated.
The 29-year-old Los Angeles man who allegedly opened fire in the front lobby of the LAPD's West Traffic Division — leaving one desk officer shot multiple times — had hoped to work for the department but was not accepted to the police academy, an LAPD commander said Tuesday.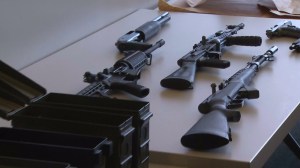 Daniel C. Yealu had applied to work for the Los Angeles Police Department but was not accepted, police Cmdr. Andrew Smith said.
A day after the shooting at a Mid-City building that houses the LAPD's Wilshire Station and West Traffic Division, police said investigators found a cache of weapons and ammunition in Yealu's vehicle and home.
Yealu allegedly walked into the West Traffic Division lobby at about 8 p.m. Monday, said he had a complaint and then opened fire on the two desk officers, police said.
The officers, a man and a woman, fired back, wounding Yealu, who was hospitalized at Cedars-Sinai Medical Center and remained in serious condition Tuesday.
The female officer was not hit, but the male officer was in stable condition after being shot multiple times. He was not wearing a bulletproof vest at the time, LAPD Sgt. Barry Montgomery said, contradicting earlier reports that he had one on.
"In my mind, this incident is miraculous," Montgomery said. "He was able to be shot multiple times and still be in good condition."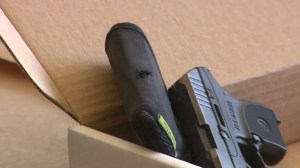 No one was injured in a nearby meeting room at the station where the Olympic Park Neighborhood Council was in session Monday night, authorities said.
"Four gunshots: bang, bang, bang, bang," recalled John Jake, president of the council. "There were people running behind the podium. There were people jumping under chairs. There were people under tables."
LAPD Chief Charlie Beck initially said that the wounded officer was shot seven times, but on Tuesday reported he was struck three times. The officer was struck twice in his right shoulder, and once in his side, Beck said.
One round also hit a backup service weapon the officer had in his pants pocket, Beck said. The number of injuries could change as the officer is treated, the chief added.
Beck described him as "very, very lucky," saying his luck was augmented by his courage.
Yealu's identity was confirmed by Smith. The commander did not provided details on when Yealu had applied to LAPD or the reason for his rejection.
Officers searched a vehicle believed to belong to Yealu and discovered there were multiple rounds and another firearm inside, according to police.
At his home, investigators found more weapons and ammunition, Beck said, showing reporters the cache during an impromptu news conference late Tuesday morning.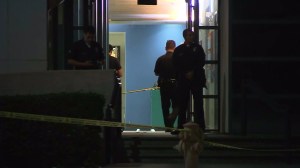 "He went into the police station not only with his glock 40-mm pistol, but also with extra magazines," Beck said.
Police displayed multiple weapons found at Yealu's home on a table, including multiple containers filled with bullets and ammunition magazines. It was not clear if Yealu had permits for the weapons, Beck said.
"It would be rare in the extreme to be allowed to possess any of these weapons. You would have had to buy them some 20, 30 years ago," Beck said.
Standing alongside Beck, L.A. police commission President Steve Soboroff said the injured officer wished to acknowledge his female colleague's work to stop the shooter.
"The belief was that he was going to go a lot farther than just the two people at the front desk," Soboroff said.
The motive for the shooting was under investigation, Beck said. The officers' names were not being released in part because it's possible Yealu targeted them, he added.
Yealu was booked on suspicion of attempted murder, but remained hospitalized and underwent surgery, Smith said Tuesday morning.
He was being held on $2 million bail, according to inmate records.
Neighbors around Yealu's apartment building in the Palms area said he was quiet and kept to himself.
A Los Angeles man named Daniel C. Yealu had permits to carry a firearm and work as a guard or patrol person, according to state records from the Department of Consumer Affairs' Bureau of Security and Investigative Services.
The firearm permit was issued in December 2007, and canceled, though it was not clear why. Yealu's guard/patrolperson registration was issued in July 2005 and also canceled.
Yealu's firearm and guard permits could have been canceled because he did not renew them, because of administrative action or at Yealu's request, according to the definition of "canceled" on the bureau's website.
The two permits had an expiration date of Dec. 31, 2013.
Yealu had a current permit to carry a baton that was issued in 2008 in Corona, the state records show.
KTLA's Tracy Bloom, Eric Spillman, Jennifer Gould, Kennedy Ryan, Jennifer Thang, Kacey Montoya, Christina Pascucci and Melissa Pamer contributed to this report.