This is an archived article and the information in the article may be outdated. Please look at the time stamp on the story to see when it was last updated.
Investigators are working to determine whether a 28-year-old man suspected of raping a woman in Maywood is involved in a recent series of home intrusions and sex assaults in the area, the Los Angeles County Sheriff said Monday.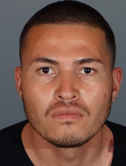 Speaking at a morning news conference, Sheriff McDonnell said the arrest of Salvador Martinez now gives investigators the ability to compare evidence from other cases.
"Fingerprints, DNA, trace evidence, witness statements, IDs, videos -- any number of different things that are available to use in a general sense," he said.
Martinez, a Maywood resident, did not put up a fight when he was apprehended in the Fresno area on Friday, according to the sheriff.
The suspect is accused of entering a woman's home in the area of Slauson and Maywood avenues in Maywood through a window and sexually assaulting her on Nov. 13, according to the L.A. County Sheriff's Department. The victim was home alone at the time.
Investigators previously said after Martinez's arrest that he may be connected to a series of similar crimes in the area that have occurred in the area over the past month. Forensic evidence is being used to try and confirm a link.
McDonnell urged anyone with information to come forward and talk to investigators, especially those who may be concerned about their immigration status.
"I'd like to offer everyone in the community our assurance that we are not looking for immigration status, we are not looking for any of the issues that are probably causing them concern," he said, adding, "We provide policing services for all of our communities."
Anyone with any information about any of the Maywood cases is encouraged to contact Lt. Deeds at 562-946-8231.
Martinez is scheduled to be arraigned on Tuesday; he is being held on $1 million bail, according to the Sheriff's Department.