This is an archived article and the information in the article may be outdated. Please look at the time stamp on the story to see when it was last updated.
An English as a second language teacher who worked at the Orange County Men's Central Jail and is accused of aiding in the escape of three inmates had some sort of personal relationship with one of the men, authorities said Friday.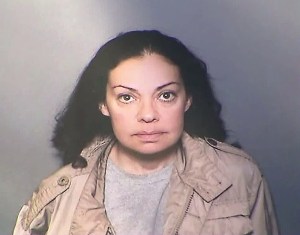 Nooshafarin Ravaghi, 44, was arrested Thursday afternoon on suspicion of being an accessory to a felony, "the felony being the escape from jail," said Lt. Jeff Hallock, a spokesman for the Orange County Sheriff's Department.
She was believed to have provided "critical planning tools," including Google Earth images of the jail, he said.
"At this time, she's denied bringing in any tools" to the jail, Hallock told reporters during a Friday morning news conference.
Midday Friday, authorities said one of the escaped inmates, 43-year-old Bac Duong, was in custody after turning himself in. The other two men were believed to be in the San Jose area in a white van described by authorities on Thursday.
Ravaghi, a contract ESL teacher for the Rancho Santiago Community College District, has worked at the jail since July 2014, according to Hallock. Earlier information released by the department that she had started working there last July was incorrect, he said.
She taught classes that one of the escapees, 37-year-old Hossein Nayeri, had attended over a period of several months, Hallock said.
Authorities "feel strongly" that there was a "close, personal relationship between the two," Hallock said. "It was not the relationship we'd expect between a teacher and an inmate in a custody setting."
It was still not known whether the pair's relationship was romantic or physical. Investigators discovered handwritten correspondence between the pair, but would not detail the contents of the exchanges.
Authorities continued their questioning of the woman, who has revealed some information to them, Hallock added.
Ravaghi had completed the required security clearance renewal back in July; she had also taken a 3-hour class for contract employees that goes through inmate rules and procedures, the spokesman said.
The class reinforces that workers not provide personal information to inmates and goes over how to avoid being "manipulated" by them," Hallock added.
She is in jail and currently ineligible for bail. Ravaghi is scheduled to be arraigned on Monday.
Meanwhile, authorities conducted two searches last night in connection with the case, one on a residence and one on warehouse. Several people were detained and released, but no arrests were made, according to Hallock.
The three inmates -- Nayeri, along with 43-year-old Bac Duong and 20-year-old Jonathan Tieu -- were last seen at the Men's Central Jail on the morning of Jan. 22.
The two still-missing men, Nayeri and Tieu, were in San Jose as recently as Thursday, Hallock said.
They may still be driving a 2008 white GMC Savana utility van with paper plates that was reported stolen from South Los Angeles the day after the escape.
Hallock indicated it is crucial that investigators locate the van.
Authorities have repeatedly said that the escapees should be considered armed and dangerous. Anyone who spots the inmates should not approach them and call 911 immediately instead.
The three were all suspects in various violent crimes: Nayeri was jailed on multiple charges including kidnapping and torture, while Tieu was held on suspicion of murder and Duong on an attempted murder charge, according to the Sheriff's Department.
After breaking out of the Santa Ana facility, the three were charged with one felony count of escape from pending felony charges, according to a news release from the Orange County District Attorney's Office.
The current investigation focused on a Vietnamese gang active in Westminster and Garden Grove, Orange County Sheriff Sandra Hutchens said in announcing the first batch of arrests on Wednesday. Hallock added on Friday that authorities now believe there may be a Vietnamese organized crime element as well.
Tieu is a known Vietnamese gang member, while Duong has gang ties, authorities had previously stated.
The inmates used tools to cut through metal and rebar, climbed into a plumbing tunnel and accessed the jail's roof. From there, they rappelled down the side of the multistory facility using a makeshift rope.
No tools have been discovered yet, but authorities have recovered the makeshift rope, as well as a jail-issued blanket that was found in the ground-level courtyard, according to Hallock.
Hutchens stated that she didn't believe the tools came from within jail, but investigators were still working to determine how the escaped inmates got them.
The Orange County Board of Supervisors has offered a $200,000 reward for information leading to the arrest of the inmates.
This slideshow requires JavaScript.