This is an archived article and the information in the article may be outdated. Please look at the time stamp on the story to see when it was last updated.
Detectives released new footage on Tuesday showing the moments before a man attempting to rob an Alhambra motel shot and killed the front desk attendant.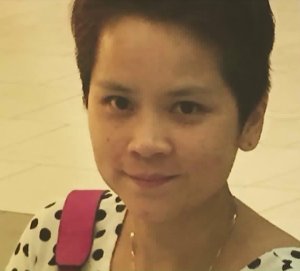 Xiuxia "Michelle" Chen, 45, was working the night shift at the Ambassador Inn in the 2700 block of Valley Boulevard on June 2 when, shortly before 11 p.m., a man dressed in black clothing and cap covering his face walked in with a handgun and demanded money, threatening to kill her if she failed to comply, according to Lt. Joe Mendoza of the Los Angeles County Sheriff's Department.
The assailant followed through with his threat, reaching over the counter and fatally wounding the mother of two, detectives said. However, he did not end up stealing any money from the motel and fled.
In the video released at a news conference on Tuesday, the gunman can be heard asking the victim, "Do you want to die?" after she insists she doesn't have any money, opening a drawer to show there is no cash inside. Chen appears to remain relatively composed throughout the ordeal.
The footage cuts off before the final, fatal moments.
A second surveillance video shows an unidentified bystander who speaks to Chen before walking past the gunman, who enters the lobby as she leaves. Investigators don't believe the woman was involved in the killing but are considering her a person of interest as they want to interview her about what she saw, said sheriff's Detective Gary Sloan.
Officials hope the new information, along with a $20,000 reward now being offered, will prompt members of the public to come forward, as detectives have yet to receive any viable leads in the case, Mendoza said at Tuesday's news conference.
Chen's family said she was originally from the Northern Mariana Islands, an American commonwealth that lies north of Guam in the Pacific Ocean. She and her husband of 25 years, Armando Escandor, moved to the U.S. mainland in 1991 and settled in Alhambra 16 years ago.
In a news release, the Sheriff's Department described the victim as a "steadfast member" of the community, a "treasured" wife and a "beloved" mother.
"All I want is justice for my loving wife," was all Escandor was able to say during Tuesday's press conference, struggling to speak through his tears, before passing the microphone to his son, Armando Jr.
The 21-year-old described the loss of his mother as "one hell of a mountain to climb" and said it's deeply affected his 12-year-old sister. Their mother was known as a tender and empathetic person whose kindness left an impression on everyone she met, not least of all Ambassador Inn's guests, he said.
"Many constantly said that she would go out of her way to help them, even if it wasn't within her job description," Armando Jr. said.
He described Chen as the "perfect mother."
She had worked at the hotel for six years and happily took night shifts, according to her son. There are no known previous robbery attempts at the location, investigators said, and her killing appears to be a random act rather than an act of extortion or inside job.
The entire incident took place over only about 45 seconds, from the time the gunman entered to the time he fled, running west down the sidewalk in front of the hotel, according to Sloan.
The unidentified woman who passed the suspect as he entered was seen stopping and turning around, "as if she had either heard a gunshot, or thought that something nefarious was about to happen," Sloan said.
She passed through the lobby from an adjoined eating and lounge area and spoke with Chen briefly before she left but does not seem suspicious, Sloan said; rather, he guesses she simply did not want to be involved.
"I can tell you right now she had absolutely nothing to do with this at all," he said.
Chen was found suffering from a gunshot wound to her abdomen by one of the motel's owners, who had arrived on unrelated business shortly after the shooting, detectives said. He immediately called 911.
"My mother did not deserve this, not one bit, so being able to know that the person responsible for this heinous crime was brought to justice, it would definitely take a weight off my heart and shoulder, and off my father and sister as well," Armando Jr. said.
The suspect is described as a man of medium build, between 5 feet 6 inches and 6-feet tall. In the video he is seen wearing dark clothing, including a hooded sweater, and one dark-colored glove.
Anyone with information can contact L.A. County sheriff's homicide detectives at 323-890-5500, or anonymously via 800-222-8477.