This is an archived article and the information in the article may be outdated. Please look at the time stamp on the story to see when it was last updated.
A white supremacist gang in the San Fernando Valley is the focus of a pair of civil lawsuits and legal actions taken by the Los Angeles city attorney, who on Tuesday said the actions marked a new direction in targeting illegal gangs that comes in a time of "heightened tension" nationally.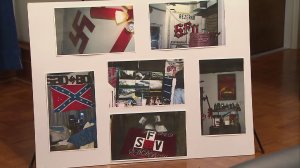 The actions are related to three homes — two in Canoga Park and one in Granada Hills — that are connected to the SFV Peckerwoods, which City Attorney Mike Feuer described as a notorious white supremacist criminal street gang. The homes are close to schools and a city library.
They have been the site of illegal gun and drug sales, where pipe bombs have been made and stolen property stored, and locations for the recruitment and training of gang members, Feuer said.
At a news conference, Feuer called the actions part of a "new front" in the battle against gangs.
"We're now fighting to prevent white supremacist gangs from infesting neighborhoods. They bring with them, of course, this toxic mix of violence and crime and hate," he said.
"It's enough … to deal with violence, with guns, with drugs … but when you add the element of white supremacy, it underscores the significance of work we're engaged in today," Feuer added.
The cases connected to the SFV Peckerwoods do not relate to any possible hate crimes committed by the gang, Feuer said. But their "ideology" leaves potential for "extremely bad acts," he said.
"These cases are not related to hate crimes in particular, but the theme is particularly important now," Feuer said. "There is no question that we're living in a nation that is experiencing heightened tension. … The fear is palpable. The sense of being divided from others is palpable."
Feuer's office is working with the Los Angeles Police Department on a "commitment to weeding out groups that profess hate," LAPD Deputy Chief Robert Green said.
City prosecutors have targeted three homes:
16440 Index St. in Granada Hills, which is within 1,000 feet of John. F. Kennedy High School and Jane Addams High, a continuation school;
7244 Loma Verde Ave. in Canoga Park, 500 feet from the Canoga Park Branch Library; and
7756 Farralone Ave. in Canoga Park, across the street from Christopher Columbus Middle School.
At the Index Street home, which Feuer's office said was known to police as a hub of methamphetamine and heroin distribution, four people were sued by the city. Johnny Reed, described as a member of the SFV Peckerwoods and a shot caller for the prison gang the Aryan Brotherhood, lives there, Feuer's office said. Reed has been sued by the city. The property owner, Monica Lewis, and her two adult sons, Norman and Robert Lewis, were also sued.
Since June, police have responded to the home at least three times to make arrests, all of alleged gang members. Officers found meth and heroin, stolen guns, stolen cars and credit cards, a check-scanning machine and other tools related to identity theft, Feuer said.
At the Loma Verde Avenue home, the city sued resident Erik Cutshaw, described as a known associate of the SFV Peckerwoods gang, and his brother, Kenneth Cutshaw, the owner of the property. This property is 500 feet away from the Canoga Park Branch Library.
Since 2012, Erik Cutshaw has been arrested at least three times in connection with criminal activity at the property, Feuer's office said. Last month, he was arrested during an undercover operation involving LAPD and federal officers investigating alleged drug and gun crimes. Officers also found 36 stolen radiators from cars.
The home at 7756 Farralone Ave. was the subject of a city abatement action after a pipe bomb exploded outside the residence when a rival gang member was targeted, Feuer's office said. No one was injured in the explosion, he said.
All of the occupants of the home have been evicted and the property is for sale.
"Three separate properties, each of them alleged to be associated with white supremacist gang activity," Feuer said. "Each of them focused on narcotics, guns, stolen property, identity theft — the fuel to enable a white supremacist gang to function."
In the cases against the first two homes, prosecutors are seeking gang and criminal activity injunctions, as well as removal of structures that inhibit police searches. Members of the SFV Peckerwoods would be prohibited from going to the homes, under the injunctions being sought.
Residents can report drug or gang activity by call Feuer's office at 213-978-8340 or by going to lacityattorney.org.