This is an archived article and the information in the article may be outdated. Please look at the time stamp on the story to see when it was last updated.
The South Pasadena father arrested late last week in Las Vegas on suspicion of killing his missing 5-year-old son has been charged with murder even though the boy's body has not been found, Los Angeles County District Attorney Jackie Lacey said Monday.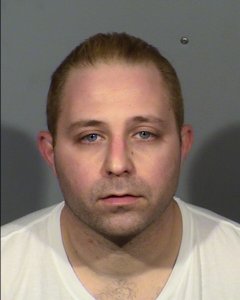 Lacey made the announcement at a late Monday morning news conference, where officials released new information on the circumstances surrounding the arrest of Aramazd Andressian Sr., who is accused of killing his 5-year-old son.
Andressian Sr. 35, was arrested on suspicion of murder on Friday, roughly two months after the disappearance of 5-year-old Aramazd Andressian Jr., according to the L.A. County Sheriff's Department.
"The time was right to make the arrest. Aramazd Andressian was becoming a flight risk," Sheriff Jim McDonnell said at the news conference.
The suspect remains behind bars in Las Vegas and is expected to be arraigned later this week. He faces a maximum possible sentence of 25 years to life in state prison if convicted on the charge, Lacey said.
Despite an exhaustive search of several locations over the past two months, including some that have been combed through multiple times, the boy's body has not yet been found, according to sheriff's Lt. Joe Mendoza.
Consequently, the department worked with the DA's office to file a "no-body murder charge," Lacey said.
"It may seem unusual to file murder charges when we have not yet found the child's body," Lacey said, she noting that the DA's office has successfully prosecuted such cases before. She added she would not have authorized charges to be filed in the case if she wasn't confident a jury would convict the father.
The motive is believed to be the "tumultuous divorce" that Andressian Sr. and his then-wife were going through at the time, according to Mendoza.
"Investigators believe that this is a pre-planned event," he said. "We don't know the timeframe; however, there's evidence showing that this was pre-planned by the suspect."
The boy's devastated mother, Ana Estevez, released a statement that was read during the news conference by Louis Aguilera, one of two lead investigators in the case. Estevez has previously said she believed her son was alive.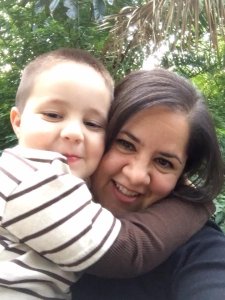 "My heart is shattered and I will miss my son immensely each and every second of every day for the rest of my life. 'Piqui' was everything great in my life and I cannot imagine the emptiness and the void that I will bear until we are together again one day," the statement said.
Andressian Jr. was last seen leaving Disneyland with his father in the early morning hours of April 21; Estevez reported the child missing on April 22, after her ex-husband didn't show up with their son for a pre-arranged custody transfer in San Marino.
Andressian Sr. was found unconscious at Arroyo Park in South Pasadena later that morning; the boy was nowhere to be seen.
The father told investigators he had taken his son to the park while waiting for the nearby golf course to open, and that the next thing he remembered was waking up in a hospital.
Sheriff's officials later said Andressian Sr. had ingested prescription medication that did not belong to him, and was discovered passed out next to a gasoline-covered BMW. Matches and gas were found inside the vehicle.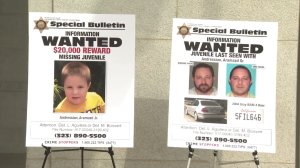 At Monday's news conference, sheriff's officials said they believed the father was trying to kill himself.
He was arrested the same day his son was reported missing, but authorities later released him because, they said, there was not enough information to prosecute him at a time.
The last confirmed sighting of the Andressian Jr. –who is known to family as Piqui — was around 1 a.m. April 21, when the boy and his father were seen leaving the Disneyland theme park in Anaheim.
It's believed the little boy was killed on the 21st after he left Disneyland, during an accounted period of 6 1/2 hours prior to the father's arrival at Lake Cachuma in Santa Barbara County.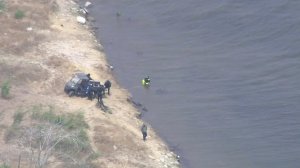 Andressian Sr.  told detectives he had taken his son there that day, but surveillance video and multiple witness accounts place him alone at the location; investigators said they have no evidence that the child was with him when he went.
The lake and surrounding areas have been searched twice, the last time on June 10.
Arroyo Park was also the subject of an intense second search on May 18, but search and rescue crews turned up nothing during the hourslong effort.
"When those efforts did not bring young Aramazd home to his mother, we focused our prime suspect, his father," McDonnell said.
Andressian Sr. "has not been cooperative whatsoever" with investigators, and has told "untruths" during interviews, according to Mendoza.
The lieutenant noted that if his son were missing, he would be doing all of the things the little boy's mother was doing, such as posting fliers. But Andressian Sr.  "was not doing that. He was socializing in Vegas," Mendoza said.
A homicide weapon has not been found, but authorities have lots of circumstantial evidence in the case, as well as new evidence that has not been shared with the public, Mendoza said.
It was unclear if any of the evidence he discussed was among the items seized from the Montebello home of the suspect's mother on May 25.
Mendoza added investigators still want to search others parts of Santa Barbara County for the body.
"It's a vast area to search," he said. We "need to zero down a smaller area."
The case remains under investigation, and anyone with information is urged to call the sheriff's Homicide Bureau at 323-890-5500, or leave an anonymous tip through Crime Stoppers by dialing 800-222-8477.