This is an archived article and the information in the article may be outdated. Please look at the time stamp on the story to see when it was last updated.
LOS ANGELES (KTLA) — Just in time for the Memorial Day getaway, a new lane was opened Friday on the 405 Freeway between the 10 Freeway and Santa Monica Boulevard.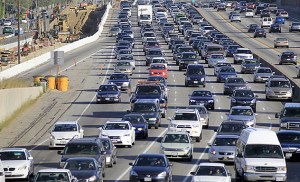 The new northbound lane runs for 1.7 miles and was officially opened at 5 a.m.
Metro officials called the opening a significant milestone in the $1 billion 405 Sepulveda Pass Improvements Project.
They hoped it would provide some relief for commuters near one of the nation's most congested freeway interchanges.
That didn't prove to be the case on Friday, however, due to a big-rig accident and fuel spill that snarled traffic on the northbound 405 through West L.A. for several hours.
The 405 Freeway improvement project will eventually add a carpool lane in both directions.
It has hit some major snags recently, however. The project was at least a year behind schedule and $100 million over budget.