This is an archived article and the information in the article may be outdated. Please look at the time stamp on the story to see when it was last updated.
Evacuation orders issued for some Holy Fire burn areas were downgraded from mandatory to voluntary after another round of showers passed through the area Thursday afternoon. As of 6 p.m., the following zones were
under voluntary evacuation warnings
: • Amorose • Alberhill • Glen Ivy A • Glen Ivy B • Glen Eden • Grace • Horsethief A • Laguna A • Lakeside A • Maitri • McVicker A • Rice • Withrow A In addition, all orders and warnings were cancelled for Alvarado A and Laguna B.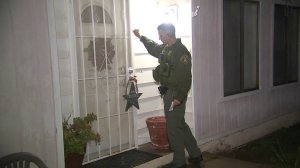 Cal Fire officials in the area had prepared for a substantial downpour Thursday. "We're going to plan for the worst and hope for the best," Cal Fire Capt. Scott Visyak said. Although the region did experience heavy downpour and some flooding, there was not extensive damage from mud or debris flows. Law enforcement officers were seen going door-to-door Wednesday night warning residents to get out before it was too late. A road closure affecting Trabuco Canyon Road was lifted shortly before 10 p.m. In December, emergency crews had to rescue several residents that were trapped in mud and debris flows. Capt. Scott Visyak said National Guard all-terrain vehicles have been brought in just in case a similar situation occurred with this storm. The National Guard vehicles are able to access areas the emergency crews normally can't reach, Visyak said. An evacuation center is open at Temescal Canyon High School, located at 28755 El toro Rd. in Lake Elsinore. Small animals are being accepted at the San Jacinto Animal Campus, located at 581 S. Grand Ave. in San Jacinto. Residents who need to evacuate large animals contact Riverside County Animal Services at 951-358-7387. A flash flood watch had been in place through Thursday afternoon, the
National Weather Service
said. Cal Fire Riverside officials tweeted photos of flooding in the Glen Eden area on Thursday. The rain is expected to taper off Thursday night with partly cloudy skies due to return on Friday.
KTLA's Cindy Von Quednow contributed to this story.
MANDATORY EVACUATION ORDER has been issued for the Holy Fire burn area today (1/17/19), for residents in the following zones: Amorose, Alberhill, Glen Ivy A, Glen Ivy B, Glen Eden, Grace, Horsethief A, Laguna A, Maitri, McVicker A, Rice, Withrow A #HolyFloodWatch @CtyLakeElsinore pic.twitter.com/s4Jq0Mqs1Y

— CAL FIRE Riverside (@CALFIRERRU) January 17, 2019
Flooding in the Glen Eden area. Photos by CAL FIRE/Riverside County Fire Department. #holyfloodwatch #rvcfire @RivCoReady pic.twitter.com/gPakaFPzGv

— CAL FIRE Riverside (@CALFIRERRU) January 17, 2019