This is an archived article and the information in the article may be outdated. Please look at the time stamp on the story to see when it was last updated.
INGLEWOOD, Calif. (KTLA) — The new owners of the Forum unveiled their plans Tuesday to spend millions of dollars in an attempt to revitalize the aging arena.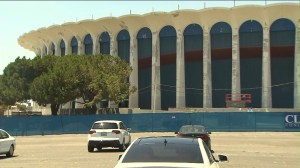 The Madison Square Garden Company said they plan to spend $100 million on renovations at a news conference held in Inglewood.
The project was expected to generate hundreds of jobs.
"This project will generate tremendous economic benefits, including jobs, both on-site and from the spill over activity in the community," said Madison Square Garden Company President Hank Ratner.
The former home of the Lakers and Kings also hosted a long list of iconic performers.
The Who, Led Zeppelin, Elvis and the Eagles were just a few of the legendary performers to play at the Forum.
The Forum's new era was scheduled to begin Jan. 15 with a concert by the Eagles.