This is an archived article and the information in the article may be outdated. Please look at the time stamp on the story to see when it was last updated.
New rules were in place Monday banning vendors from hawking sightseeing tours on the sidewalks in Hollywood, officials said.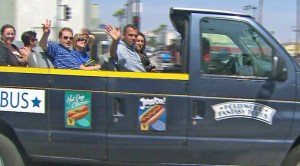 Starting this past weekend, sightseeing bus operators were required to sell tours from a business or kiosk on private property, instead of approaching tourists along the Hollywood Walk of Fame.
The change was approved by the Los Angeles City Council last month.
The crackdown was meant to restore order in the tourist zone and stop what had become a "Wild West sales atmosphere," Los Angeles City Councilman Mitch O'Farrell said in a statement last month.
Hollywood business leaders planned to join O'Farrell Monday for a walking tour along the Boulevard to celebrate the policy change.