This is an archived article and the information in the article may be outdated. Please look at the time stamp on the story to see when it was last updated.
Two collared coyotes living in Los Angeles have given researchers a new understanding of the species' resilience and ability to make their homes in unnatural habitats.
The first-ever study of urban coyotes in Los Angeles, described by the National Park Service on Tuesday, has focused on two animals that were captured and fitted with GPS collars in May.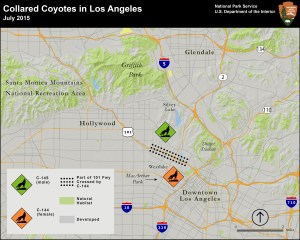 The duo — a male and female coyote who are not mates — spend more than half of their time in developed areas such as roads and high-density residential areas, according to the Santa Monica Mountains National Recreation Area.
"From just a few months of data, we now know that coyotes are persisting within home ranges that have high human densities and little natural habitat, which is quite remarkable," said Justin Brown, a biologist for the National Recreation Area.
Researchers with the park have previously studied coyotes in the western Santa Monica Mountains and the Simi Hills, but the study this spring and summer is a first for its focus on urban animals in L.A.
Of course, sightings of coyotes in Los Angeles are nothing new and their high-pitched yips and howls are frequently heard at night in many areas. But until the current study, researchers couldn't be certain if the coyotes of L.A. were just passing through urban areas on their way to more natural habitat in Griffith or Elysian parks — or if the coyotes were making their homes in developed neighborhoods.
It turns out they are, indeed, living in dense, urban areas.
C-144, an alpha female who is 2 or 3 years old and has a mate and five pups, lives in the Westlake neighborhood just west of downtown L.A.
Researchers believe she has one of the most urban home ranges of any individual coyote ever studied. And in the short time she's been collared, GPS data has shown her crossing the 101 Freeway multiple times.
It's not clear how C-144 is crossing the freeway — whether on lanes or over bridges or underpasses. Her collar provides about eight data points over a 24-hour period.
The other coyote, C-145, lives in Silver Lake. A male believed to be between 4 and 8 years old, hasn't crossed any freeways and spends his time in both vacant hillside areas and developed areas as well, according to Kate Kuykendall, a spokeswoman ranger for the federal recreation area.
"Here we have the second biggest city in the country and a very developed and urbanized neighborhood, and we have animals that are finding a way to make do with the habitat they have," Kuykendall said.
Researchers hope to capture and collar four more urban coyotes this fall. They hope to find out how coyotes are using the landscape, what much space the animals need, and what kind of conflict their urban lives bring them into with humans.
The animals — canids that live across most of North America — should not be fed. People should seek to maintain coyotes' natural fear of humans, experts say.
That means, in part, not leaving human or pet food, unsecured trash, or small pets outside. Access to trash alters coyote's natural behavior.
Coyotes are omnivorous predators and play an important role in ecosystems, keeping rodent populations in check and helping to maintain a balance of species diversity.
Coyotes play an important role in the ecosystem, helping to keep rodent populations under control. They are by nature fearful of humans.
"Coyotes are native Angelenos. They've been here longer than any of us," Kuykendall said.