This is an archived article and the information in the article may be outdated. Please look at the time stamp on the story to see when it was last updated.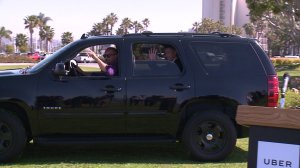 Uber has launched a new service — Uber Passport — that takes ride-hailing passengers from San Diego across the U.S.-Mexico border and into Tijuana and the surrounding area.
But the service, announced Thursday, is one-way and won't bring travelers directly back to the States.
Passport is the first Uber product to allow "seamless" travel across an international border, according to the San Francisco-based company.
"While there are many places we could have launched this product, we recognize the importance of the largest border crossing in the world and the unique relationship between San Diego and Tijuana," Uber said in a blog post announcing the service.
Uber Passport rides can be split between up to four passengers, who can travel to Tijuana and elsewhere in northern Baja California — as far east as Mexicali and as far south as Ensenada, according to the San Diego Union-Tribune.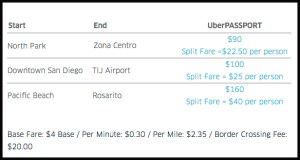 A ride from Pacific Beach to Rosarito would cost $160, while a ride from downtown San Diego to the Tijuana International Airport would cost $100, according to Uber. There is a "border-crossing fee" of $20.
"UberPASSPORT is a one-way journey from San Diego to Tijuana. The return trip from Tijuana to San Diego is not included," Uber said.
To return to the U.S., riders can order an Uber driver locally in Tijuana who will take them to the border. Riders will have walk over the border in the pedestrian lane, and must then request a second Uber to pick them up and take them to their final drop-off.
Riders must have all required documentation to cross back into the U.S.
"DON'T FORGET!" Uber said in its blog post.
San Diego Mayor Kevin Faulconer joined Uber officials in announcing the service in a news conference Thursday.