This is an archived article and the information in the article may be outdated. Please look at the time stamp on the story to see when it was last updated.
An updated version of Los Angeles' earthquake early warning app will soon alert users to weaker shaking, L.A. Mayor Eric Garcetti and scientists from the U.S. Geological Survey officials announced Wednesday.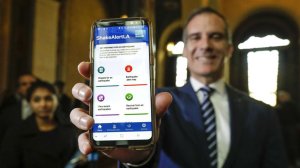 Previously, ShakeAlertLA alerted users to temblors of magnitude 5.0 or greater. That threshold notification will be reduced to a magnitude of 4.5.
"Every day we are communicating the importance of preparedness, so that every Angeleno has the tools and resources they need to build a better life — and then protect that life when disaster strikes," Garcetti said in a statement. "Updates to ShakeAlertLA will result in an even more responsive application making our city stronger and our families safer."
The change will go into effect this month. It comes after criticism from many users who complained they were not alerted to shaking when a pair of powerful temblors centered near Ridgecrest jolted the greater Los Angeles area on July 4 and July 5.
"The app performed as designed, it's just that the intensity levels were below that threshold that had been set by the app," USGS seismologist Rob Graves said at the time.
Still, even with the downgrade of the shaking threshold, app users would only have been notified after the largest quake, a magnitude 7.1. that struck one day after a 6.4 temblor hit the region.
The ShakeAlertLA app became the first publicly available early warning system in the U.S. when it launched on Apple and Google Play stores on Dec. 31, 2018, according to the mayor's statement.
It was officially unveiled in early January.