This is an archived article and the information in the article may be outdated. Please look at the time stamp on the story to see when it was last updated.
Mandatory evacuations have been lifted in the 46 Fire, which that broke out near Rancho Jurupa Park in Jurupa Valley, possibly when a vehicle caught on fire, and then spread into Riverside Thursday morning.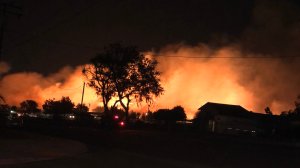 The fire was first reported about 12:40 a.m. along the 5300 block of 46th Avenue, according to Cal Fire.
"The first on scene resource reported 1/4 acre of vegetation burning with a rapid rate of spread," the agency said in a written statement. It had blackened more than 300 acres by 8:25 a.m.
By 7 p.m., the blaze was 50% contained, according to Cal Fire.
At least three residential structures and two outbuildings have been destroyed in the fire, the incident page stated.
Police say the fire started when a stolen vehicle being pursued by authorities came to a stop in a field in the 4800 block of Crestmore Road.
The car ignited and was quickly engulfed in flames. Authorities took two people who fled from the vehicle into custody.
Around 5:30 a.m., the fire jumped the Santa Ana River, spreading into the Riverside area. Aerial video from Sky5 showed a large structure fully engulfed in flames.
Workers showed up at the Mary S. Roberts Pet Adoption Center early Thursday morning as flames threatened the building and the pets inside.
Volunteers were seen inside putting animals into cages to make sure they could be moved to a safe location if necessary.
Firefighters had managed to keep the flames away from the facility as of 6:30 a.m.
The Louis Robidoux Nature Center also burned and was destroyed in the fire.
The Jurupa Unified School District closed a couple of campuses due to the fire. Indian Hills and Peralta elementary schools will not be open Thursday morning. Classes were expected to be back in session Friday, according to a School District Facebook post.
Firefighters are contending with powerful winds with gusts up to 60 mph, according to the National Weather Service. A high wind warning is in place for Riverside County until about noon, when winds are expected to subside. A red flag warning has also been issued for the area until 6 p.m.
Metrolink passengers who usually take Line 403 will need to use an alternate, according to a tweet from MetrolinkRIV.
RIV Line 403 to Los Angeles is cancelled for today. Passengers traveling directly to LA can board train 703. Passengers can also use the SB Line as an alternative. Those traveling directly to LA can use 91/PV Line trains. Updates to follow.

— MetrolinkRIV (@MetrolinkRIV) October 31, 2019
Residents of nearby neighborhoods were evacuated, then allowed to return home, as the Hill Fire scorched more than 625 acres, officials said. The Hill Fire was 15% contained early Thursday.